The GREEN pool pump that saves you money
The Badu® Eco 3 is another example of Speck Pumps innovations to meet world energy and environmental challenges. The Badu® EcoM3 uses a state of the art permanent magnet brushless DC motor controlled by advance logic electronics.
A sparkling, clean pool is no longer a drain on your wallet or the environment.
The Badu Ecotouch Eco 3 is a 3 speed 1.5hp pump that decreases power usage and carbon emissions, lowers energy costs and reduces noise levels - which keeps everyone happy.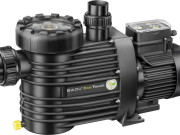 Features:
This high performance, medium head pump comes complete with our unique mechanical shaft seal that allows the pump, if mistreated, to run dry for up to one hour.
The pump can be used for pool water with a salt concentration of up to 5000 ppm.
Pump parts are made of 100% recyclable plastic. Non-corrosive, chemical/UV resistant, and can withstand temperatures of up to 175° F.
Totally enclosed fan cooled maintenance-free permanent magnet brushless DC motor.
3 speed: low, medium, and high ranging from 1900 (filtration), 2410 (vacuuming), and 2850 (backwash) RPM.
Virtually noiseless at low speed.
Significantly reduces energy usage depending on method of operation.
For pool users' safety, the impeller has a dielectric shaft sleeve that provides absolute separation between the pool water and electric parts.
Specially constructed clear lid with ring lock design is easy to open. Large strainer basket is always locked in place.
Motor is easy to remove without disturbing the plumbing. Reuseable o-rings throughout.
Five year warranty on these wet end components : casing, diffuser, gland housing, impellor and mechanical seal
Two year warranty on the motor and all commercial applications.
Every pump is performance tested before leaving the Speck factory.
By operating the revolutionary Badu Eco-touch pool pump across its 3 speeds, you can save over 80% of the energy consumed by running a normal 1hp pump.